117 West 46th Street
New York 10036
NY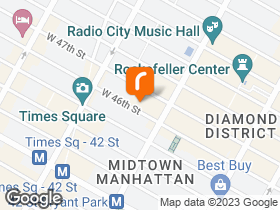 Available spaces
Get an instant quote on office space
Description
Convene @ 117 W 46th St., New York, NY, 10036

Convene at 117 West 46th Street is the premier event venue location for your next big occasion - be it a summit, awards dinner, town hall or gala. Nestled in Midtown West Manhattan between Times Square and Rockefeller Center with capacity up to 600 guests, no detail will go unnoticed as our professional meeting planners help you create an unforgettable experience with customized opportunities such as digital video walls along with physical exhibit areas like columns and walls that can showcase sponsorships & corporate branding.


FEATURES

Friendly reception staff

Mail handling

Events and networking

Bookable Meeting rooms and boardrooms

Breakout space for informal meetings or thinking space

Free to use phone booths for privacy

Wifi and fixed line access

24x7 access

Printing and scanning facilities - (Pay-As-You-Go)

Stocked and serviced kitchens

Cleaning services

Desks, chairs and pedestals included


WHAT YOU'LL PAY

Your Agreement will cover all the details of what's included and what you'll pay for, but as a guide:


Upfront Costs include one-off set up fee to cover things like provision of access passes, any signage and service retainer (typically two months rent)

Monthly outgoings includes all your outgoings and is based on the number of memberships and the office space rented.

Pay-As-You-Go Services include any adhoc IT services requested, printing services and meeting room usage. Note that credits for meeting rooms and printing are typically included in your membership plan, and you will only be charged for usage in excess of your allowance.


ABOUT RUBBERDESK

Rubberdesk is a platform used by Real Estate Agents on behalf of Tenants as well as Tenants themselves looking for Coworking and Flexible Office Space.

Rubberdesk compares all the options, checks availability and finds the best price for coworking spaces around the world.

Because even industry insiders struggle to keep up with the fast paced nature of Coworking and Flex Office Space.
About Host
Convene is a leading hospitality company founded off the simple question: "What if you ran an office building like a hotel?" From there, we made it our mission to elevate the way people meet, work and live by reimagining what "a workday" means for today's most innovative organizations. Through a network of beautifully designed and tech-enabled meeting, event, and WorkPlace locations, we offer a full-service, premium single solution that transforms workdays into memorable experiences.