An Insider's Guide to Coworking in the United States
Everything you need to know about Coworking in the US
Background
In the US market, the coworking industry has been on a steady rise, driven by the growing demand for flexible and affordable workspace solutions. According to a recent report by JLL, the coworking market in the US is projected to grow at a CAGR of 6.3% from 2022 to 2027, reaching a value of $13.6 billion by the end of the forecast period.
This growth is attributed to the increasing popularity of remote work and the need for businesses to offer flexible work arrangements. Coworking spaces provide an opportunity for workers to connect and collaborate with like-minded individuals, fostering a sense of community and innovation. As the US economy continues to evolve, coworking is expected to remain a viable option for businesses and individuals seeking a more agile and collaborative work environment.
Rubberdesk's Coworking Guide
In this detailed guide, you'll discover everything you need to know about the innovative and flourishing world of coworking — from insider lingo to top operators and emerging industry trends. Whether you're an independent contractor or the CEO of a growing company, you'll learn how you can leverage a coworking space to increase productivity, improve employee engagement and continue growing your business.

Before delving into the nitty-gritty details of coworking, let's lay out what it actually is. If you punch this term into Google, you'll find the following definition:
The use of an office or other working environment by people who are self-employed or working for different employers, typically so as to share equipment, ideas, and knowledge.
That pretty much sums it up. To be more specific, though, coworking is when someone signs a contract to license their use of an office space that's owned or leased by someone else. Although coworking hasn't been on the scene for very long, it has an explosive history. In a relatively short time, coworking has gone from a small-scale business venture to a phenomenon that encompasses the entire globe, single-handedly defining what the future of work will be.
If you're considering joining a coworking space, you'll do well to become fluent in coworking-speak. Here's a selection of common terms and what they mean:
Hot Desk
Hot-desking refers to a workspace system in which desks are rotated among people on an ad hoc basis. Hot desks can be implemented in coworking setups as well as private offices. Because hot desks don't provide any sense of permanence, there's less and less demand for this one-time trend. As a result, most coworking operators have significantly cut down on the number of hot desks available to rent.
Dedicated Desk
A dedicated desk is a membership option that provides a workspace just for you. It provides a more permanent setup and more privacy compared to hot-desking or using shared spaces only. You can also curate the space and leave your supplies right where you left them.
Managed Office
A managed office is a vacant space that's rented out by a landlord or property owner. It doesn't typically come with furnishings, business opportunities, reception services, or other amenities.
Flexible Space
A flexible, or "flex" space refers to any space that's offered to businesses that can tailor it according to their needs.
When coworking began, it was largely geared toward entrepreneurs, freelancers, and startups. In many ways, the industry still caters to these kinds of businesses, but it has also expanded to incorporate companies of all sizes.
Coworking is utilised by all of the following:
Entrepreneurs
Lawyers
Financial professionals
Agencies
Small businesses
Startups
Construction companies
Large corporations, including Amazon, Microsoft, and Google
There are a variety of membership models available for coworking spaces. Members typically pay a weekly or monthly subscription fee that's determined by several factors, including:
Frequency
With coworking, you pay only for what you need, so most membership models are based on how often you need to use the space.
You might pay for full-time access, a specific number of days or hours per week, or occasional hourly access. The latter works well for people who are in town only for a short time or are working on a project outside of their regular hours. This is sometimes referred to as a weekend plan. Some spaces even offer discounted rates for workers who require only nighttime access.
It all depends on the needs of the member.
Dedicated Space
There are numerous options for dedicated spaces, including:
Full-floor offices
Office suites
Standard offices
Shared spaces
Dedicated desks
Hot desks
Virtual workspaces
Number of People
For employers who wish to purchase a plan for a team, the number of people is usually factored into the price in addition to the dedicated space.
Additional Services and Access
There are always extras for members to incorporate into their membership plan, such as:
After-hours access
Specific technology
A mailing address
Printing
Phone services
Acceptance
Lastly, some coworking operators are more exclusive with their approach to membership. For example, they may want to stick to specific industries or require you to pass an interview process before you can become a member. Because community is so vital to coworking, operators care about the kind of community they create or curate.
Recent research by Small Business Labs indicates that coworking can positively impact productivity, innovation, and overall job satisfaction. Some of the main benefits of coworking in the US market, supported by research from the past three years, include:
Increased networking opportunities and access to a diverse range of professionals and industries
Improved work-life balance and mental well-being due to flexibility and reduced commute times
Reduced overhead costs for businesses and startups, as coworking spaces typically offer a range of amenities and services
Enhanced creativity and innovation through collaboration with other professionals and exposure to new ideas and perspectives
Greater job satisfaction and a sense of community due to the social nature of coworking spaces
Amenities
At coworking spaces, the amenities are extensive. The perks offered in the vast majority of spaces include:
Coffee and tea
Wi-Fi and ethernet connection
Networking and other events
Printing
Parking
Kitchen
Meeting and conference rooms
Hot-desking and dedicated desks
Some spaces offer additional specialized amenities such as:
Virtual services
Snacks
Beer
A concierge service
On-site massages
Bike racks
Yoga classes
Wellness stations
Outdoor spaces
Pet-friendly settings
Child care
Showers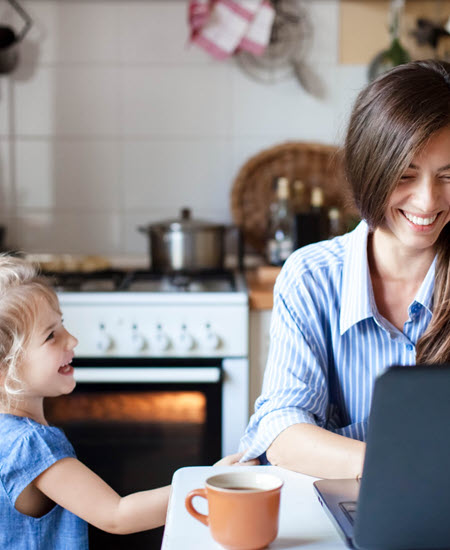 The debate over whether working in an office or working from home is better has gained traction in the US market in recent years, especially with the rapid adoption of remote work due to the pandemic. While each work arrangement has its advantages and disadvantages, recent research suggests that there is no clear-cut answer.
Harvard Business Review found that remote workers reported higher job satisfaction and lower stress levels than office workers. However, a survey conducted by TELUS International found that 65% of employees preferred working in the office due to the social aspect and better work-life balance.
Ultimately, the choice between working in an office or working from home may depend on individual preferences and work requirements. Employers may consider offering flexible work arrangements that cater to employees' needs and preferences, while also ensuring that they maintain a strong sense of company culture and collaboration regardless of the work location.
The differences between serviced offices and coworking can be hard to catch, especially because many people use the two terms interchangeably. The two concepts diverge in three key ways:
Workspace
Coworking spaces usually have a more open floor plan, which is built for community and collaboration. They offer flexible leases and a variety of workspace options as well as amenities.
Serviced offices are usually more broken up. They may have cubicles or private offices and suites. Some offer hot desks and dedicated desks along with coworking spaces, however.
Design
The environment of coworking spaces is typically more casual. Many facilities are modern, aesthetically pleasing, and unique.
In serviced offices, the vibe is more corporate, catering to a professional and private working environment.
Culture
Lastly, the culture of coworking spaces is imbued with an entrepreneurial and communal spirit. The staff work to create new opportunities for collaboration and connection between members.
Serviced offices rarely have a distinct culture, as businesses are in and out.
Today, there are extensive options when it comes to coworking spaces, including:
Full-service
Private
Shared
Lifestyle
Subleased
Specialized
Virtual
Floor
Office suite
Event
Meeting/conference room
Explore the 10 most common flexible office space types today.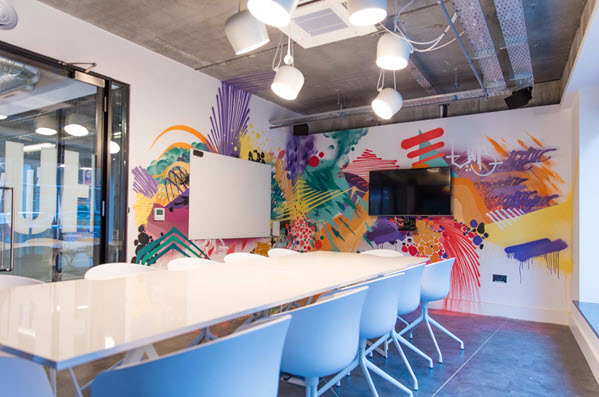 There are various factors to consider when choosing the right coworking space for you.
The most important component is the location — you'll not only want to find a space that's easy to commute to, but one that's also near shops, restaurants, and other businesses.
Next, you'll want to think about what kind of workspace is best suited to your needs, and what kinds of resources you want access to. And don't forget amenities. Ask yourself: What perks do I want with my membership?
Last but not least, you must consider the cost. As mentioned earlier, there's a range of membership plans available, each at a different cost.
Once you've narrowed down your list of coworking spaces, go ahead and schedule a time to tour the space. Get a feel for the environment (taking note of things like natural light and noise levels), sense of community, and quality of the materials.
These factors should play into your decision:
Location
Layout
Access to meeting rooms
Community and collaboration
Sign-up/renewal process
Pricing
Flexibility
Work environment
Comfort
Events and education
Cleaning protocols
When it comes to choosing a coworking space, your options are vast. There's the global leads such as WeWork vs Regus as well as local operators such as Galvanize, Bond Collective and more:
Saturday, 27th August 2022
What's the difference between coworking and serviced or managed offices? Less than you might think. Learn the basics and the lingo of the coworking industry here. Read more
Turn your spare office space into a coworking space and earn extra income from our 5 step guide. Read more