1325 Palmetto Street
Los Angeles 90013
CA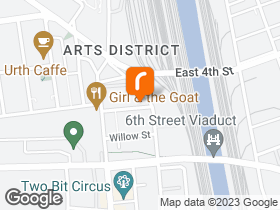 Available spaces
Get an instant quote on office space
Description
Union Cowork @ 1325 Palmetto St., Los Angeles, CA, 90013

The Arts District of Los Angeles is a unique and revitalized neighborhood, aptly capturing the combination of old-world charm with modern appeal. Characterized by its walkability amongst early 20th century industrial architecture, it's no surprise that this vibrant community continues to draw people in. Its convenient location offers easy access to four major freeways, three airports (LAX included), as well as Union Station within just ten minutes on foot – making LA's Art district easily accessible from anywhere in the city. On top of all that; furnished private offices are available for rent coupled with dedicated deskspace alongside conference rooms - perfect for hosting an event or podcast recording session!


FEATURES

Friendly reception staff

Mail handling

Events and networking

Bookable Meeting rooms and boardrooms

Breakout space for informal meetings or thinking space

Free to use phone booths for privacy

Wifi and fixed line access

24x7 access

Printing and scanning facilities - (Pay-As-You-Go)

Stocked and serviced kitchens

Cleaning services

Desks, chairs and pedestals included


WHAT YOU'LL PAY

Your Agreement will cover all the details of what's included and what you'll pay for, but as a guide:


Upfront Costs include one-off set up fee to cover things like provision of access passes, any signage and service retainer (typically two months rent)

Monthly outgoings includes all your outgoings and is based on the number of memberships and the office space rented.

Pay-As-You-Go Services include any adhoc IT services requested, printing services and meeting room usage. Note that credits for meeting rooms and printing are typically included in your membership plan, and you will only be charged for usage in excess of your allowance.


ABOUT RUBBERDESK

Rubberdesk is a platform used by Real Estate Agents on behalf of Tenants as well as Tenants themselves looking for Coworking and Flexible Office Space.

Rubberdesk compares all the options, checks availability and finds the best price for coworking spaces around the world.

Because even industry insiders struggle to keep up with the fast paced nature of Coworking and Flex Office Space.
About Host
Union Cowork is a leading coworking company located in San Diego, California. The workspaces are fully equipped to suit the needs of businesses and include both private offices as well as shared spaces for meetings or collaboration. Members have access to high-speed internet, printing services, office supplies and ergonomic furniture that provides natural lighting. In addition to providing amenities designed with their members' comfort in mind; Union Cowork also facilitates networking through events such as workshops and educational programs which further enhances collaborative endeavors within their community setting.