4075 Wilson Blvd
Arlington 22203
VA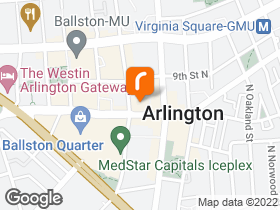 Available spaces
Get an instant quote on office space
Description
Industrious @ 4075 Wilson Blvd, Arlington, VA

Our workspace in the Ballston area of Arlington, Virginia is designed for maximum productivity, with stunning Ballston Quarter views with an abundance of natural light alongside private offices, conference rooms and coworking. From impromptu meetings in the numerous common areas, to proposals in the fully-equipped conference rooms, our private office suites have everything your team needs to scale and succeed near Washington, D.C.



NEARBY TRANSPORT

Orange & Silver Lines at Ballston MU Station

FEATURES

Professional Community

Friendly reception staff

Mail handling

Events and networking

Access to a global network of centres

Bookable Meeting rooms and boardrooms

Breakout space for informal meetings or thinking space

Free to use phone booths for privacy

Wifi and fixed line access

24x7 access

Printing and scanning facilities - (Pay-As-You-Go)

Stocked and serviced kitchens

Tech support

Cleaning services

Desks, chairs and pedestals included

Access to the Industrious network enables you to work from over 120 locations across USA.

WHAT YOU'LL PAY AT INDUSTRIOUS

Your Agreement with Industrious covers all the details of what's included and what you'll pay for, but as a guide:


Upfront Costs include one-off set up fee to cover things like provision of access passes, any signage and service retainer (typically two months rent)

Monthly outgoings includes all your outgoings and is based on the number of memberships and the office space rented.

Pay-As-You-Go Services include any adhoc IT services requested, printing services and meeting room usage. Note that credits for meeting rooms and printing are typically included in your membership plan, and you will only be charged for usage in excess of your allowance.

WHY BUSINESSES CHOOSE INDUSTRIOUS

Industrious provides businesses of all sizes with the highest quality coworking and private office space.

Businesses can access more than 120 centers across the US, meaning there's always an office to drop into when on the road, along with boookable meeting rooms.

Industrious' on demand facilities such as meeting rooms and print facilities make it easy for businesses to access the resources they need and hassle-free.

Fully serviced office space, enable businesses to focus on doing business and leave managing the office to the professionals.

The ability to quickly and easily scale up allows businesses to flex and adapt as their needs demand.

FAQ's

How long do we sign a membership agreement at Industrious?
Agreements range from monthly to yearly and everything in between. Typically you'll get the best deal on a 12 month agreement, which gives you the best of price and flexibility.

What happens if we outgrow our office?
Depending on availability, businesses typically grow within Industrious' large network of locations and spaces.

Can Industrious handle our specialist IT needs?
Most IT requirements are taken care of out of the box, but if your business has specialist needs then Industrious will help implement them with you. There may be a cost depending on requirements.

Does Industrious support a Hybrid Work model?
Yes. Most businesses operating a hybrid work model, rent a dedicated and private office space that accomodates their typical on-site staff, and then use additional membership passes for staff to drop in and access the hot desk and meeting room facilities in any of the Industrious locations.

ABOUT RUBBERDESK

Rubberdesk is a platform used by Real Estate Agents on behalf of Tenants as well as Tenants themselves looking for Coworking and Flexible Office Space.

Rubberdesk compares all the options, checks availability and finds the best price for coworking spaces around the world.

Because even industry insiders struggle to keep up with the fast paced natue of Coworking and Flex Office Space.
About Host
Industrious has tailored workspaces to fit the needs of businesses around the world. They offer highly professional, well thought out offices that can be adapted to suit the rapidly changing nature of work.
All office spaces are fully managed and come furnished and IT taken care of, with lightning fast Wi-Fi speeds plus professional grade printers so your team can focus on your business.
Industrious has over 160 locations across the US and overseas, spread across more than 65 cities, all accessible under one membership.
Industrious offers businesses solutions that include Hybrid access passes, Virtual addresses, Meeting spaces, Coworking and Dedicated desk, Private offices, Large Private Suites, Conference rooms, Event Spaces and Enterprise solutions custom built.