4422 North Ravenswood Avenue
Chicago 60640
IL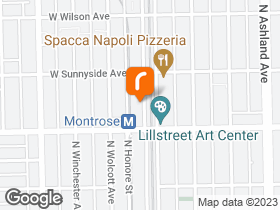 Available spaces
Get an instant quote on office space
Description
Platform Coworking @ 4422 N Ravenswood Ave, Chicago, IL, 60640

Escape the hustle and bustle of city life at 4422 N. Ravenswood Ave., a tranquil office space nestled in the picturesque tree-lined neighborhood of Ravenswood. With multiple flexible seating options, long-term reserved spaces, phone booths for calls, as well as a conference room to meet with colleagues or clients; this professional yet comfortable workspace has it all! Situated within easy access to both local public transportation systems - Montrose Brown Line and Ravenwood Metra – plus ample street parking around; there's an array of activities available nearby too such as taking a break from work with ice cream cone from Margie's Candies or enjoying some creative menu items from Spoken Cafe .


FEATURES

Friendly reception staff

Mail handling

Events and networking

Bookable Meeting rooms and boardrooms

Breakout space for informal meetings or thinking space

Free to use phone booths for privacy

Wifi and fixed line access

24x7 access

Printing and scanning facilities - (Pay-As-You-Go)

Stocked and serviced kitchens

Cleaning services

Desks, chairs and pedestals included


WHAT YOU'LL PAY

Your Agreement will cover all the details of what's included and what you'll pay for, but as a guide:


Upfront Costs include one-off set up fee to cover things like provision of access passes, any signage and service retainer (typically two months rent)

Monthly outgoings includes all your outgoings and is based on the number of memberships and the office space rented.

Pay-As-You-Go Services include any adhoc IT services requested, printing services and meeting room usage. Note that credits for meeting rooms and printing are typically included in your membership plan, and you will only be charged for usage in excess of your allowance.


ABOUT RUBBERDESK

Rubberdesk is a platform used by Real Estate Agents on behalf of Tenants as well as Tenants themselves looking for Coworking and Flexible Office Space.

Rubberdesk compares all the options, checks availability and finds the best price for coworking spaces around the world.

Because even industry insiders struggle to keep up with the fast paced nature of Coworking and Flex Office Space.
About Host
Platform Coworking is a coworking company in Chicago, Illinois that provides an environment for entrepreneurs, freelancers and small businesses to grow their business. Their facilities include private offices, shared workspaces with all the essential amenities like high-speed internet, printers and more. This workspace also offers networking opportunities through social events; workshops and seminars lead by successful professionals from different industries as well as access to resources that foster growth of members' ideas or projects. Platform aims at creating a comfortable atmosphere where everyone feels accepted regardless of background or profession fostering collaboration between its members leading the way toward success in many great endeavors!