4438 Ingraham Street
San Diego 92109
CA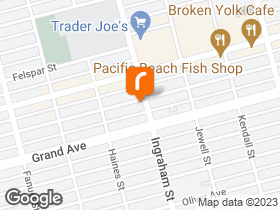 Available spaces
Get an instant quote on office space
Description
Downtown Works @ 4438 Ingraham Street, San Diego, CA, 92109

Located in Pacific Beach, only a stone's throw away from the magnificent ocean and vibrant downtown San Diego, our 10 000 sq. ft. coworking space is designed to be an inspiring hub for creativity and productivity with its boho-chic décor - making it perfect for startups, remote teams or entrepreneurs looking for optimal working conditions. The chic interior of 30+ private offices along with two meeting rooms , 3 phone booths plus plenty of lounging areas are all equipped with state-of–the art tech – so whether you're into networking or dynamic problem solving; this one certainly has the vibe!


FEATURES

Friendly reception staff

Mail handling

Events and networking

Bookable Meeting rooms and boardrooms

Breakout space for informal meetings or thinking space

Free to use phone booths for privacy

Wifi and fixed line access

24x7 access

Printing and scanning facilities - (Pay-As-You-Go)

Stocked and serviced kitchens

Cleaning services

Desks, chairs and pedestals included


WHAT YOU'LL PAY

Your Agreement will cover all the details of what's included and what you'll pay for, but as a guide:


Upfront Costs include one-off set up fee to cover things like provision of access passes, any signage and service retainer (typically two months rent)

Monthly outgoings includes all your outgoings and is based on the number of memberships and the office space rented.

Pay-As-You-Go Services include any adhoc IT services requested, printing services and meeting room usage. Note that credits for meeting rooms and printing are typically included in your membership plan, and you will only be charged for usage in excess of your allowance.


ABOUT RUBBERDESK

Rubberdesk is a platform used by Real Estate Agents on behalf of Tenants as well as Tenants themselves looking for Coworking and Flexible Office Space.

Rubberdesk compares all the options, checks availability and finds the best price for coworking spaces around the world.

Because even industry insiders struggle to keep up with the fast paced nature of Coworking and Flex Office Space.
About Host
Downtown Works is an award-winning provider of coworking office spaces and services, with locations in San Diego and Santa Monica. Aimed at entrepreneurs, freelancers, startups, established companies as well as any business that needs flexible workspace solutions; they offer a wide range of options to suit all requirements. Their modern workspaces are designed for collaboration while providing essential amenities such as high speed internet access along with printing/scanning facilities paired with virtual offices if desired. In addition there's the added benefit of staffed reception area ready to assist members should their be any need for it - plus a selection of professional business services like mail handling & phone answering allowing teams focus on core activities instead!