575 Market Street
San Francisco 94105
CA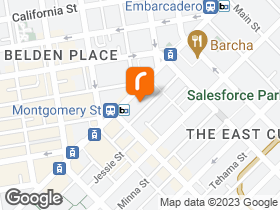 Available spaces
Get an instant quote on office space
Description
Mindspace San Francisco -- 575 Market St., San Francisco, CA, 94105
Located in the heart of downtown San Francisco, Mindspace Market Street is a short walk away from top attractions like Union Square and Ferry Building. This luxurious 36,000 square foot space offers three floors full of inspiring private offices alongside cozy lounges and an event area that can accommodate any type of gathering. With its immediate access to Montgomery Station as well as Transbay terminal via public transportation, it's simple for guests to arrive; so book today & experience everything this incredible location has to offer!

FEATURES
- Friendly reception staff
- Mail handling
- Events and networking
- Bookable Meeting rooms and boardrooms
- Breakout space for informal meetings or thinking space
- Free to use phone booths for privacy
- Wifi and fixed line access
- 24x7 access
- Printing and scanning facilities - (Pay-As-You-Go)
- Stocked and serviced kitchens
- Cleaning services
- Desks, chairs and pedestals included


WHAT YOU'LL PAY

Your Agreement will cover all the details of what's included and what you'll pay for, but as a guide:


Upfront Costs include one-off set up fee to cover things like provision of access passes, any signage and service retainer (typically two months rent)

Monthly outgoings includes all your outgoings and is based on the number of memberships and the office space rented.

Pay-As-You-Go Services include any adhoc IT services requested, printing services and meeting room usage. Note that credits for meeting rooms and printing are typically included in your membership plan, and you will only be charged for usage in excess of your allowance.


ABOUT RUBBERDESK

Rubberdesk is a platform used by Real Estate Agents on behalf of Tenants as well as Tenants themselves looking for Coworking and Flexible Office Space.

Rubberdesk compares all the options, checks availability and finds the best price for coworking spaces around the world.

Because even industry insiders struggle to keep up with the fast paced nature of Coworking and Flex Office Space.
About Host
Mindspace is a dynamic and rapidly expanding global coworking company that provides businesses around the world with modern, flexible workspaces. With over 30 locations in countries such as the United States, Europe, and Asia; Mindspace offers solutions to meet any business need from one day hot desks through to private offices for teams of up to 100 people. All workspace options are fully-furnished including high speed internet access & printing services plus additional amenities such as break-out areas or lounges depending on location preference. Community interaction plays an important role for many at Mindspace – networking sessions between members being just one opportunity - with social events also organized regularly across different sites where small team leaders can share experiences under expert guidance provided by keynote speakers invited worldwide! Masterminded designs make our office spaces stimulating environments which encourages innovation whilst fostering productivity amongst all who visit us here at Mindspace: making it both welcoming yet professional so that you always feel part of something larger than yourself but taken care of within your own environment simultaneously too.