7300 Biscayne Boulevard
Miami 33138
FL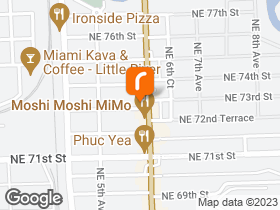 Available spaces
Get an instant quote on office space
Description
Buro Miami @ 7300 Biscayne Blvd., Miami, FL, 33138

At Büro MiMo, located in the renowned Coppertone building of Miami's buzzing Biscayne Corridor, office culture and modern design blend to create a uniquely chic workspace. The 12,000-square-foot space offers private suites for teams as well as open seating and dedicated desk areas ideal for individual work needs - along with all the classic amenities from this popular workplace brand. Perfectly placed among rising cafes and restaurants within one of Miami's most stylish neighborhoods known affectionately by locals simply as "MiMo" district – it is no wonder why so many creative minds are flocking here!


FEATURES

Friendly reception staff

Mail handling

Events and networking

Bookable Meeting rooms and boardrooms

Breakout space for informal meetings or thinking space

Free to use phone booths for privacy

Wifi and fixed line access

24x7 access

Printing and scanning facilities - (Pay-As-You-Go)

Stocked and serviced kitchens

Cleaning services

Desks, chairs and pedestals included


WHAT YOU'LL PAY

Your Agreement will cover all the details of what's included and what you'll pay for, but as a guide:


Upfront Costs include one-off set up fee to cover things like provision of access passes, any signage and service retainer (typically two months rent)

Monthly outgoings includes all your outgoings and is based on the number of memberships and the office space rented.

Pay-As-You-Go Services include any adhoc IT services requested, printing services and meeting room usage. Note that credits for meeting rooms and printing are typically included in your membership plan, and you will only be charged for usage in excess of your allowance.


ABOUT RUBBERDESK

Rubberdesk is a platform used by Real Estate Agents on behalf of Tenants as well as Tenants themselves looking for Coworking and Flexible Office Space.

Rubberdesk compares all the options, checks availability and finds the best price for coworking spaces around the world.

Because even industry insiders struggle to keep up with the fast paced nature of Coworking and Flex Office Space.
About Host
Büro Miami is a Florida-based boutique coworking firm, founded in 2010. It specializes in providing flexible office spaces designed to boost collaboration and productivity amongst entrepreneurs, small businesses and remote workers alike. Members of BüroMiami can access its various options such as private offices, dedicated desks or even memberships while utilizing state-of-the art technology with conference rooms equipped within the facility along with fitness centers & cafés all available onsite too catering for their needs far beyond what traditional methods could provide! Mutual connections are formed through networking events held frequently by the company combined with educational workshops helping to create expansions that otherwise wouldn't exist alone.