448 North La Salle Street
Chicago 60654
IL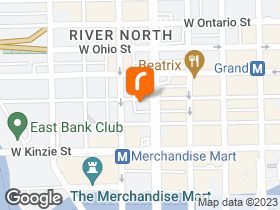 Available spaces
Get an instant quote on office space
Description
WeWork @ 448 North Lasalle Drive Floor 9, Chicago, IL

Located in the heart of River North's vibrant art, dining and innovation scene, WeWork is your premiere workspace for productivity. With four floors dedicated to inspiring creativity and collaboration over lounges for team gatherings or private offices for heads-down work, you'll be surrounded by countless opportunities! Commuting couldn't be easier with Merchandise Mart station just minutes away as well as several buses nearby – allowing plenty of time to explore downtown Chicago; from Beatrix on Wells Street all the way down to Magnificent Mile shops & breathtaking views at The Riverwalk. Come join a network leading today's innovative entrepreneurs – make it happen now at WeWork.


NEARBY TRANSPORT

Brown, Purple CTA Line at Merchandise Mart (3 minute walk) | Red CTA Line at Grand/State (9 minute walk) | Blue, Green, Pink, Orange CTA Line at Clark/Lake (8 minute walk) | Ogilvie Transportation Center (1 mi drive) | Union Station (1.1 mi drive)

90/94 Expressway nearby (0.5 mi drive)

156, 22, 29, 36, 37, 65 Bus Routes (2-8 minute walk)


FEATURES

Friendly reception staff

Mail handling

Events and networking

Access to a global network of centres

Bookable Meeting rooms and boardrooms

Breakout space for informal meetings or thinking space

Free to use phone booths for privacy

Wifi and fixed line access

24x7 access

Printing and scanning facilities - (Pay-As-You-Go)

Stocked and serviced kitchens

Tech support

Cleaning services

Desks, chairs and pedestals included

Access to the WeWork network enables you to work from any of the 240 locations across USA.


WHY BUSINESSES CHOOSE WEWORK

Wework has fast become one of the largest coworking platforms in the world. Known for its inspiring and innovative architectural designs, premium office space and global services, WeWork has created a global network of offices and growing community that reaches a worldwide audience.

Launched in 2010, they opened their first shared workspace in New York. Since then, the company has experienced rapid growth, now reaching over 750 locations across 38 countries.

All of WeWorks centres are located in prime locations, offer premium services and amenities and boast inspiring coworking and private office space.


FAQ's

How long do we sign a membership agreement at WeWork?
Agreements range from monthly to yearly and everything in between. Typically you'll get the best deal on a 12 month agreement, which gives you the best of price and flexibility.

What happens if we outgrow our office?
Depending on availability, businesses typically grow within WeWork's large network of locations and spaces.

Can WeWork handle our specialist IT needs?
Most IT requirements are taken care of out of the box, but if your business has specialist needs then WeWork will help implement them with you. There may be a cost depending on requirements.

Does WeWork support a Hybrid Work model?
Yes. Most businesses operating a hybrid work model, rent a dedicated and private office space that accomodates their typical on-site staff, and then use additional membership passes for staff to drop in and access the hot desk and meeting room facilities in any of the WeWork locations.


ABOUT RUBBERDESK

Rubberdesk is a platform used by Real Estate Agents on behalf of Tenants as well as Tenants themselves looking for Coworking and Flexible Office Space.

Rubberdesk compares all the options, checks availability and finds the best price for coworking spaces around the world.

Because even industry insiders struggle to keep up with the fast paced natue of Coworking and Flex Office Space.
About Host
Since 2010, WeWork has been on a mission to revolutionize the workplace by creating customized and community-centered workspaces around the globe.
Boasting a portfolio of over 750 locations spanning 38 countries with 1 million workstations in total and almost 600K physical memberships, as of 2021 – WeWork strives to create an environment where companies can come together under their roof and do great work.
WeWork offer a range of workplace solutions including:
Enterprise Solutions
Full Floor Office
Private Office Suites
Dedicated Desks
Hot Desks
Meeting Rooms
Work On Demand
WeWork All Access
Business Address
Event Spaces