5113 South Harper Avenue
Chicago 60615
IL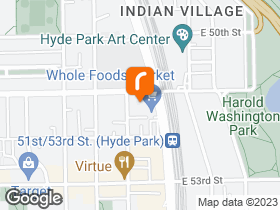 Available spaces
Get an instant quote on office space
Description
Regus/IWG @ 5113 S. Harper, Chicago, IL, 60615

Our 5113 South Harper Avenue workspace provides the perfect professional setting in one of Chicago's most stimulating neighbourhoods. With convenient access to CTA buses, you can make your commute effortless while taking advantage of a wealth of nearby attractions including University of Chicago and Museum os Science & Industry as well has Harold Washington Playlot Park for some downtime with nature.


FEATURES

Friendly reception staff

Mail handling

Events and networking

Bookable Meeting rooms and boardrooms

Breakout space for informal meetings or thinking space

Free to use phone booths for privacy

Wifi and fixed line access

24x7 access

Printing and scanning facilities - (Pay-As-You-Go)

Stocked and serviced kitchens

Cleaning services

Desks, chairs and pedestals included


WHAT YOU'LL PAY

Your Agreement will cover all the details of what's included and what you'll pay for, but as a guide:


Upfront Costs include one-off set up fee to cover things like provision of access passes, any signage and service retainer (typically two months rent)

Monthly outgoings includes all your outgoings and is based on the number of memberships and the office space rented.

Pay-As-You-Go Services include any adhoc IT services requested, printing services and meeting room usage. Note that credits for meeting rooms and printing are typically included in your membership plan, and you will only be charged for usage in excess of your allowance.


ABOUT RUBBERDESK

Rubberdesk is a platform used by Real Estate Agents on behalf of Tenants as well as Tenants themselves looking for Coworking and Flexible Office Space.

Rubberdesk compares all the options, checks availability and finds the best price for coworking spaces around the world.

Because even industry insiders struggle to keep up with the fast paced nature of Coworking and Flex Office Space.
About Host
Regus is a global coworking company that has revolutionized the way businesses operate. With locations in over 100 countries, Regus provides flexible workspace solutions such as fully-furnished offices, shared workspaces and virtual office spaces with high speed internet access and other modern amenities to help empower companies of all sizes. In addition to physical space offerings, they also provide administrative support services and receptionists for added convenience. Above all else customers value their focus on flexibility, community engagement opportunities as well as affordability which have earned them acclaim within the industry at large making them one of coworking's most reputed names across Europe & North America.