Co+Hoots Coworking
Co+Hoots is a workspace designed to inspire collaboration and cultivate creativity. Choose from versatile coworking desks, private offices, conference rooms, or event spaces.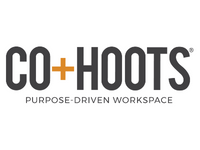 Founded in 2010 by Jenny Poon, Co+HOOTS is an Arizona-based coworking space provider that has become a globally recognized coworking space and is now home to more than 280 entrepreneurs, startups, and small businesses. By creating a supportive environment for these entrepreneurs, they've been helping transform Phoenix into a thriving hub of growth since its establishment.
Membership Options
Co+HOOTS offers flexible membership options to suit different needs. Members can choose between a monthly or yearly membership, and there are no long-term commitments. The company provides various membership plans that range from drop-in rates to private office spaces. Members can access the coworking space during regular business hours, and they can also use the space during off-hours by obtaining a keycard.
Co+Hoots also offers a virtual membership plan for members who do not require a physical workspace but still want to be part of the community. This plan provides access to the online community, events, and resources.
Amenities & Features

High-Speed Internet
Staffed Reception
Coffee, Tea & Snacks
Keyless Building Entry
Phone Booths
Event Spaces
Break Out Space
Podcast Studio
Meeting Rooms
Flexible Access
Discounted Incubation
Partner Discounts
Unlimited Events
Explore Current Availability on Rubberdesk
No listings for Co+ Hoots
We currently have no listings available for Co+ Hoots. Don't worry, we can still help! We can help you track down the perfect the office for you by Co+ Hoots or something nearby.
Get an instant quote on office space