Geek Offices
Geek Offices is an innovative workspace provider located in the Cambridge area, offering a range of flexible and affordable options to meet the needs of freelancers, startups, and small businesses.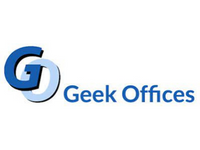 Geek Offices is a premier provider of coworking spaces in the greater Boston area. Founded in 2012, the company has established itself as a popular destination for freelancers, startups, and small businesses looking for flexible and affordable workspace options. What makes Geek Offices stand out from other shared workspaces is its commitment to providing a supportive and collaborative environment for its members.
Through networking events, mentorship programs, and other initiatives, members have the chance to connect with other like-minded professionals and gain valuable insights into their respective industries.
Flexible Memberships Options
Geek Offices offers a variety of plans to suit different needs and budgets. These include dedicated desks, shared desks, private offices, and virtual office plans. All memberships come with 24/7 access to the coworking space, high-speed internet, and access to meeting rooms.
Amenities & Features

Free WiFi
Easy to Join
Coffee & Refreshments
Print & Copy
24/7 Access
Flexible Memberships
On-Site Team
Conference Rooms
Central Location
Explore All Availability on Rubberdesk