Epicentral Coworking
Epicentral Coworking is a collaborative workspace perfect for freelancers, small business owners, telecommuters, entrepreneurs, side-hustlers, and coffee shop nomads.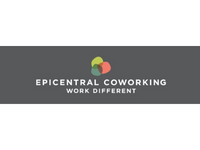 Epicentral is a coworking space located in Colorado Springs that provides shared office space, meeting rooms, and resources for entrepreneurs, small business owners, and remote workers. They offer flexible membership options to suit a range of needs and provide a community-driven environment to help individuals and businesses grow. Epicentral also hosts events and workshops to foster collaboration and networking among its members.
Membership Options
Epi Central offers three main membership options for individuals and businesses: Hot Desk, Dedicated Desk, and Private Office.
The Hot Desk membership provides access to any available desk on a first-come, first-served basis in a shared workspace.
The Dedicated Desk membership gives members their own reserved desk in a shared workspace.
The Private Office membership provides members with private office space for their business needs.
In addition to these physical memberships, Epi Central also offers Virtual Memberships for those who don't require physical office space but still want to be part of the community. Virtual Members have access to the online community, events, and resources.
Locations
Epicentral Main is located just north of the downtown core at 415 N Tejon St. In its 10,000 sqft dedicated building, Epicentral Main houses 21 offices, 8 dedicated desks, 5 meeting rooms, numerous hot desks, and event space.
Epicentral's second coworking space is located in the heart of downtown in the historic Carlton Building (13 S Tejon St). Covering the entire 5th floor (4,500 sqft), Epicentral at the Carlton has 12 offices, 3 dedicated desks, 1 meeting room, and a number of hot desks.
Amenities & Features
Fast Internet
Dry Cleaning
Coffee
Storage
Parking
Print, Scan & Copy
24/7 Access
Tech & Supplies
Social Events
Mailing Address
Phone Booths
Local Discounts