10 Flexible Office Space Types
H‌ere's what users can expect from the ten most common types of flexible office spaces.
Pandemic aside, remote working and coworking have gained massive traction over the past few years, and solutions like "flexible office space" — an umbrella term that covers a wide range of short-term workspace solutions including coworking and serviced offices — have grown in popularity too. It's estimated that by 2024, up to 5 million workers will stop calling a traditional office their regular workplace.
Though entrepreneurs, freelancers and startups were the early users of flexible office space, enterprise and corporate clients have now taken note and today are considering flexible offices as part of their office portfolio strategy. Today there are many types of options for a wide range of businesses from law firms to construction.
In Oceania there are over 660 locations, or 2.87% of the world's share, with the industry expected to expand at an annual rate of 20% over the next 3 years.
10 Types of Flexible Offices
"Flexible" is not a one-size-fits-all concept. Today's remote office solutions come with different perks for different users. They're especially useful for those teams and companies that require a range of options for an uncertain future. H‌ere's what users can expect from the ten most common types of flexible office spaces.
1. Coworking Desk
A coworking desk is an open collaborative space that, unlike a traditional office, allows clients to book a desk on-demand. This alternative —the lovechild of a business centre and a cafe— offers a relaxed yet professional environment with a real sense of community. It's a versatile solution for those who need a space that matches their flexible work schedule and provides the occasional meeting room to meet clients or team mates. One of the most prominent examples of this type of workspace is WeWork.
2. Full-Service
Full-service flexible office spaces offer memberships some fancier amenities and more sophisticated spaces. The luxury and convenience they provide distinguishes them from other options available in the market. They do have higher price points, but they typically come with utilities such as:
Water
Electricity
Janitorial services
Maintenance
WiFi
Insurance
‌Having all these costs covered by a full-service office allows members to avoid start-up costs and the hassle of monitoring and paying bills. This way, they can focus on collaboration and getting the work done.
What's the difference between coworking and serviced offices?
Coworking spaces and serviced offices are similar in that they both provide flexible short-term solutions, but they meet different needs and have different lease structures or licence agreements as they are termed in the serviced office world. Here's your simple guide to coworking vs. serviced offices.
3. Corporate Offices
This category is probably not the best fit for startups and small businesses. It's geared towards professional clients —like accountants and law firms (https://www.rubberdesk.com.au/coworking/flexible-work-for-corporates)— and offers a quiet atmosphere, where tenants can work privately, instead of focusing on collaboration. It's a more budget-friendly alternative to a full-service office, but it still gives off an enterprise vibe. One of the largest providers of corporate offices in the world, Regus, is the perfect example of this type of flexible workspace.
4. Private Offices
Those who want their own workspace can benefit from renting a private office to accommodate a larger team (eight or more people). This option lets tenants pay for an entire space or floor, and it might even accommodate company branding as desired. Private offices are a little less flexible and cost-effective than other alternatives on this list and typically require a 12-month commitment (or longer). However, since it's a licensed space rather than a lease, clients just need to give a month's notice if they want to leave and can generally upgrade the space if the business grows before the end of the term.
5. Budget Offices
A perfect option for those seeking affordability, budget offices are a minimalist approach to flexible office spaces. These large, open spaces have less furniture and decor, limited amenities, and are run by smaller operators such as Emerge and Altitude. But these bare-bones coworking options have the basic conveniences tenants might need and a quiet, casual environment.
6. Shared Space
Shared spaces are coworking-style desks where teams share amenities and common areas. These workstations, which are typically rented by remote employees, freelancers, gig workers, and consultants that don't need a central office, have limited perks and are not customizable. Still, they offer a traditional office setting where collaboration between members is highly encouraged.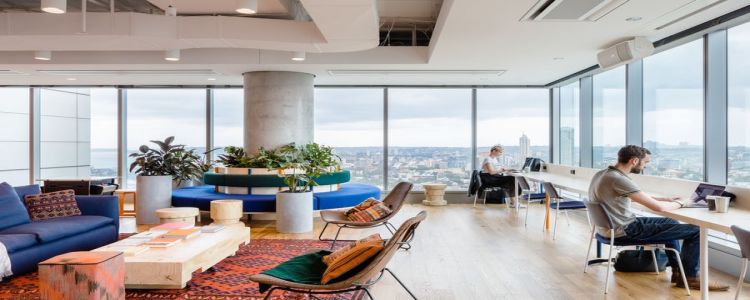 7. Subleased Offices
This option is similar to a shared space, but it aims for larger teams that want to work alongside an existing business. This typically happens when the original tenant has more space than they need, can't get out of a long-term lease, or has a vacant office they aren't using. Subleased offices may not include managed services, and the environment and services depend on the current occupants.
8. Specialized Offices
This niche flexible workspace caters to specific industries, like creatives, developers, and law firms. The spaces in specialized offices are often more customizable than other options and can be easily tailored to their client's needs. Specialized offices provide privacy to large teams and can be adapted to individual demands.
9. Accelerators
In general terms, accelerators assist startups in identifying what they need to define and build their products, recognize their target audience, secure capital, and other resources, and find valuable employees to thrive. These types of workplaces are often attractive to software developers and creatives since they offer a casual, innovative, relaxed, collaborative environment that helps ideas flow. Accelerators are affordable options for those waiting for their ventures to take off.
10. Virtual Office
Those seeking a physical address to receive mail and meet occasional clients can benefit from the advantages a virtual office provides. These types of workplaces cover the basic management needs for a monthly fee and give those on a budget a professional office setting on demand. Virtual offices are one of the most wallet-friendly alternatives out there for small businesses and solo entrepreneurs.
Operators such as Servcorp provide a range of virtual office packages across all major cities giving you the freedom to select an address that fits your needs.
The Future of Flexible Offices Is Here
Flexible offices offer effective solutions to businesses of all types and are ideal in a down market like today's pandemic reality. With supply at an all-time high, operators in this growing business are able to offer significant benefits to their customers at very competitive rates.
If you're ready to take the plunge and ditch the traditional office setting, contact us today. We'll help you find, tour, and license the right office for your team's needs.
---
What is flexible office space?
A flexible, or "flex" space refers to any space that's offered to businesses that can tailor it according to their needs and rented on a short term basis from 1 month to 3 years..
What are the benefits of flexible office space?
From saving upfront costs on facilities such as gyms, cafes, and outdoor space generally not included in a traditional lease, serviced offices provide a range of benefits including flexible terms, lower upfront costs, turnkey space that adapts as the business grows, office managers & receptionists, as well as amenities such as printers, high speed WIFI, paper shredders and shared kitchens.
---
Find your perfect office today
Local market experts with you every step of the way.
As specialist brokers in the flexible office market, Rubberdesk is across all the options, offers and availability. We have real time pricing for thousands of spaces listed by hundreds of providers to help find your next office.
It's EASY, FAST and FREE to use Rubberdesk.
Start by telling us what you need.
We'll give you a call back with a bespoke shortlist of options to discuss.
Or give the experts a call +1 469 489 5613